Carbon Yield is a platform that helps farmers transition to regenerative agriculture and monetize sustainable farming practices.
Conventional agricultural practices can have a large strain on natural resources such as freshwater and marine ecosystems, soil, and air. These practices are also a notable source of soil degradation due to an increase in erosive activities, the use of tillage, and the emphasis on monoculture (the planting of the same crop year after year). Current farming and food systems are just not working. Soil is being depleted of nutrients, farmers are not earning nearly as much as they should, and there is an enormous burden on the environment. All these factors can affect human health.
Carbon, despite being harmful in large quantities in the atmosphere, is an important factor in agricultural ecosystem functioning and soil health. When carbon enters soil normally, through the decomposition of plants, it stands to benefit soil quality. Carbon aids in soil structure and increases microbial activity. When soil is healthy, it can act as a carbon sink, storing carbon that would normally end up in the atmosphere.
An emerging climate solution to prevent these negative effects and better sequester carbon is regenerative agriculture. Regenerative agriculture is the act of farming to improve the health and functioning of the agricultural ecosystem by employing practices that improve soil health, promote biodiversity, and sequester carbon. Some common practices include cover cropping, crop rotation, conservation tillage, and the integration of livestock. Though it is well-known that regenerative agriculture is a sustainable alternative to conventional farming, the process of transitioning is difficult and often expensive. Many farmers don't know where to start.
Enter Carbon Yield, which aims to help farmers transition to regenerative processes and access new revenue streams. Carbon Yield ensures that farmers can access the resources they need by providing a support platform for regenerative transitions. Carbon Yield's simplified access to technical, financial, and community resources allows for a more integrated and simplified process for farmers.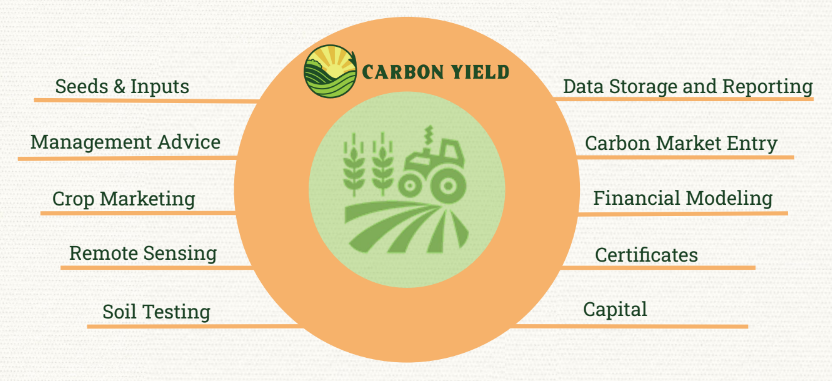 After accessing the platform, farmers can make a profile on the app. Based on their inputs, Carbon Yield matches the farmers with the resources they need, whether it be advisors, eligible programs, or grants. Some services offered through their platform include:
● Access to financial support and lenders
● Advice on regenerative practices
● Instructions on how to join the carbon markets
● Referrals to crop advisors who can guide them on timing and practices
● Quantification and tracking of environmental impact
The platform consolidates fragmented resources into a single location so that farmers have a one-stop-shop for all the mechanisms that can help them be successful. As the company gathers more data and inputs about their farmer customers, they continue to expand the resources available on their marketplace platform.
Carbon Yield also gives farmers the tools they need to generate more profits with their practices. For example, the platform identifies potential crop buyers who are willing to pay a premium for the crops. It also recommends ways to increase cash flow to fund the transition from traditional to regenerative farming practices. Carbon Yield also aggregates various carbon sequestration projects across the platform and will sell a tranche of associated carbon credits. This gives farmers a way to monetize their regenerative practices via the voluntary carbon markets. Finally, Carbon Yield further helps farmers diversify their profits through corporate GHG programs and premium crop offtake.
Carbon Yield helps farmers embrace regenerative farming practices. The result is reduced inputs, improved soil health, resilience to extreme weather conditions, and increased profits for farmers. Regenerative farming is a necessary innovation to improve our climate and revive a dying industry. This promising climate solution is a win for farmers, our planet, and food chain.
To learn more about Carbon Yield, watch the company's presentation at the Understory's April 2022 Showcase here.
To learn more about Regenerative Farming, check out this article from Understory's contributing author.
To learn more about the Voluntary Carbon Markets, check out this piece from Understory.
---
Subscribe
Join the newsletter to get the latest updates.
---
---