LimeLoop is a sustainable shipping platform that offers companies reusable packaging combined with smart technology.
With the increasing occurrence and ease of online shopping, and the ability to have packages shipped to your door with just a click, the environmental impact of this convenience is often not considered. Approximately 2 trillion e-commerce packages are expected to be delivered annually in the next 10 years1, so reusable packaging and supporting systems are essential. Especially since there is no end in sight to this new way of life.
While e-commerce has scaled rapidly bringing many advantages to the world, there have been many unintended consequences. In addition to the immense amounts of packaging waste generated by e-commerce, current operating systems often do not offer the most satisfying end-user customer experience. Many conventional shipping platforms do not have efficient return options, which makes it difficult for consumers to make returns. As a result, consumers often discard unwanted items. Unknown to many customers, returned items often end up going to waste rather than going back on the shelves for resale given the complexity of restocking. All these factors result in almost 6 billion pounds of return waste.
There must be a better way.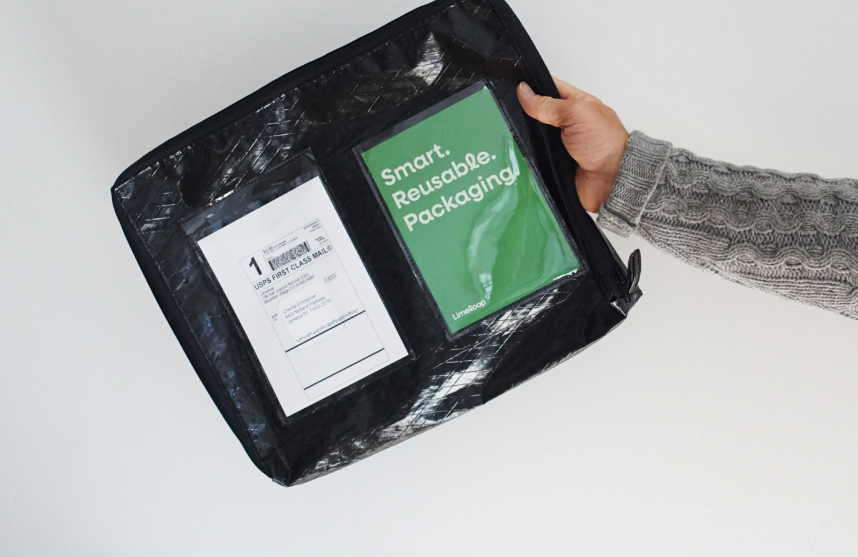 LimeLoop is a circular economy solution that provides both reusable packaging and platform to manage the end-to-end ecommerce shipping process. First, the company provides reusable packaging made with recycled vinyl materials and recycled cotton that comes in various sizes to meet consumer needs. The durable packaging can be used over 200 times. The packaging contains a sensor that makes the packages easily traceable and directly connects each piece to an e-commerce software platform that retailers manage behind the scenes. Companies are able to provide a sustainable and low-waste packaging option that allows their customers to track their packages and return packaging.
Here's how it works:
The company ships the product in the reusable packaging
Consumer tracks and then receives their package
The consumer flips the label, exposing the return label and mails the packaging back to the retailer
Both retailers and customers can use the Limeloop smart platform for insights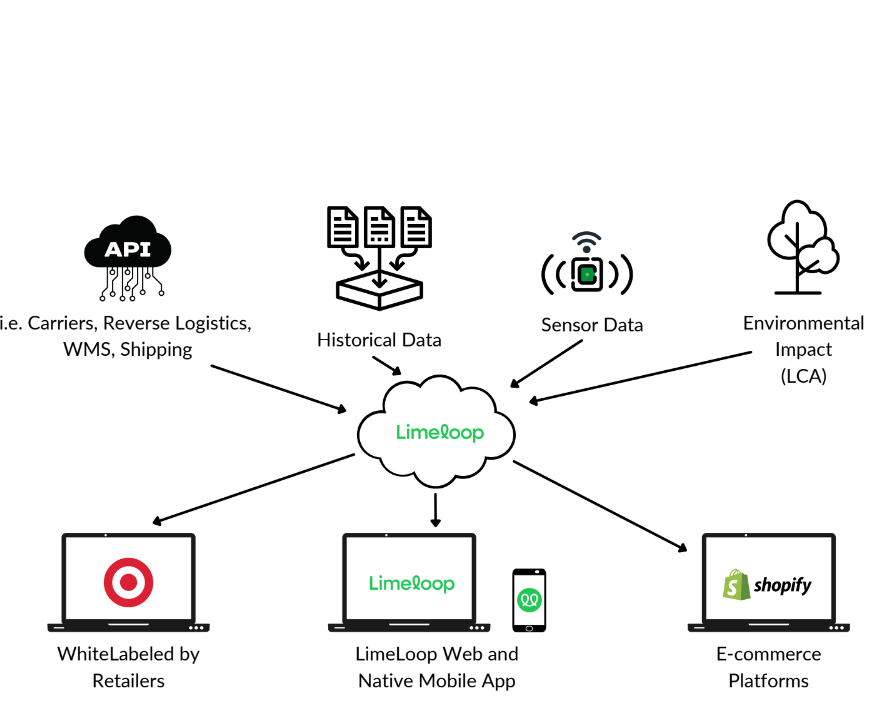 Retailers gain LimeLoop's powerful software platform that brings customer service understanding and communication to the next level. It enables direct communication with end consumers throughout the entire process, by automating tracking and question response. The smart platform helps to increase supply chain visibility by tracking products via the sensor and producing insights including shipment location and temperature options. The platform also helps with product returns and reverse logistics, making it easier to restock items and reduce return waste. LimeLoop also tracks a retailer's environmental impact such as waste diversion and other resource usage factors such as water, trees, oil, and carbon emissions saved by using the platform.
LimeLoop is an efficient and environmentally friendly solution for ecommerce retailers. The company promotes the concept of circular reuse, extending the useful life of materials through recirculation.
To learn more about LimeLoop, check out the Understory's podcast episode and watch the Understory's "Startups Driving Sustainability" March Showcase.
You can also listen to an episode of The Understory Podcast featuring Co-Founders Ashley Etling and Chantal Emmanuel for a deeper discussion about the platform.
---
[1] LimeLoop, 2022. https://thelimeloop.com/
---
Subscribe
Join the newsletter to get the latest updates.
---
---