Living Ink produces sustainable and carbon negative ink using algae.
What is Carbon Black? You may wonder what the term means.
Well, before we talk about what it is, it is everywhere in our lives. Carbon Black refers to the common black pigmentation on countless products. We don't have to quantify how much Carbon Black exists in our lives because we can just look around us at all the things that we and our family or friends use. Carbon Black is pervasive and ubiquitous. It is everywhere - tires, rubber, cosmetics, paints, ink, etc.
What we may not know is that Carbon Black is derived from petroleum and natural gas.
Reducing Carbon Black is another type of effort that has the potential to reduce carbon footprints in one dimension of our supply chain. What would be one path to replace some level of consumption of Carbon Black? One path is to find another way to produce black ink in a different way, and in turn, reduce our reliance on Carbon Black. One company - Living Ink -  is exploring this path.
Living Ink uses algae, which can be grown at large scale using sunlight and water, as the raw input material for new types of black ink. Through various technologies, Living Ink extracts pigment that can further be milled and formed to have similar appearance and characteristics to Carbon Black. The company has termed its innovation "Algae Black" which is a carbon-negative black pigment derived from algae.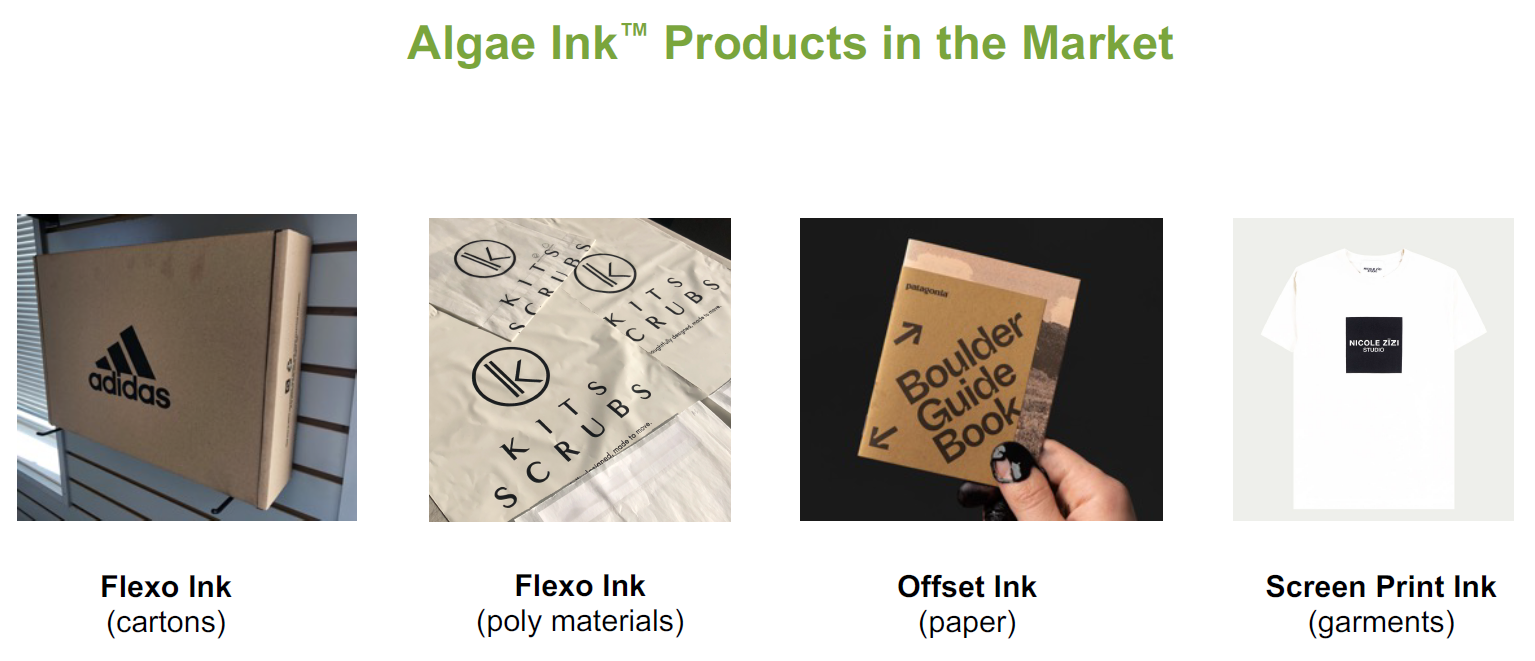 Why algae? Algae has become more accessible, generally grows fast, and the green biomass uses and absorbs atmospheric carbon dioxide to grow. Algae grows in water and is often referred to as aquatic organisms. Algae comes in many different types including seaweed which is familiar to many people. While it is still an emerging market, algae-derived products represent a market opportunity of over $3 billion by 2022 and over $5 billion by 20251.
While algae innovation is still early, Living Ink has already made big strides. Living Ink has partnered with firms like Patagonia, Adidas, and other big brands to test its black ink to understand consumers' and brands' requirements. They are working on other applications of "Algae Black" polymers like plastic packaging, cosmetics, and other materials. The company is also experimenting with carbon negative ink in other colors as they expand the business.
Learn more about Living Ink and how it is reducing carbon emissions by tuning into our May 2021 'Startups Driving Sustainability' Showcase recording.
---
[1] Fior Markets: "Global Algae Product Market is Expected to Reach USD 5.38 Billion by 2025". January 29, 2020

---
Subscribe
Join the newsletter to get the latest updates.
---
---