Deep dive on Circularity Preservation
Convenience. Optionality. Speed.
Consumers have high expectations when it comes to consuming goods and services. To meet these demands, organizations have adopted practices that have had large, often negative, impacts on the environment:
Fast fashion trends resulting in 21 billion tons of textile waste a year and creation of 20% of the globe's water waste¹.
The use of single-use plastic for things like packaging and hospitality convenience. The world produces about 150 tons of single-use plastic a year, which is approximately half the weight of the entire human population².
And many more.
Consumer preferences have expanded to demand one other critical item from organizations: Sustainability. More and more consumers care about how products are produced and whether the manufacturer practices responsible production. These consumers are using their wallets to reward companies that embrace, practice and scale sustainable principles. In fact, a 2018 Nielsen report found that 73% of consumers would change what they buy to reduce their environmental impact³. Companies with products that demonstrate circularity design win here. Companies that provide new tools that make it easy to embrace sustainability also win here.
In this whitepaper, we focus on the second phase of the circularity process — PRESERVE — which gives individuals and organizations new tools to embrace sustainability while also meeting other consumer preferences. In essence, the preserve element of circularity extends the useful life of products and services by lengthening the amount of time before a product is thrown away. Organizations can achieve preservation in circularity by adopting new tools, technology and business models that enable them to resell, repair, or share goods and services, in turn extending or preserving the use of a resource or a product.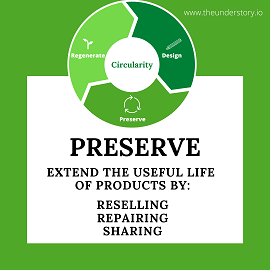 As organizations consider circularity preservation, one common misconception is that prolonging the use of goods drives down volume sales and depresses economic gains. In reality, leaders that embrace and practice circularity preservation have successfully unlocked new revenue streams and mitigated the risk of shifting consumer preferences. Philips, for example, introduced a leasing model for healthcare equipment to better fit the varied budgets of their customers — allowing some customers to easily upgrade over time while refurbishing used equipment for reuse in other facilities. This drove new revenue at the high end of the market, while also extending their reach to the long tail of the customer segment. Embracing circularity requires a mindset change from imagining a world of limited resources to one of innovative abundance.
Circularity Preservation In Practice
Circularity Preservation happens in three major ways: resell, repair, and share.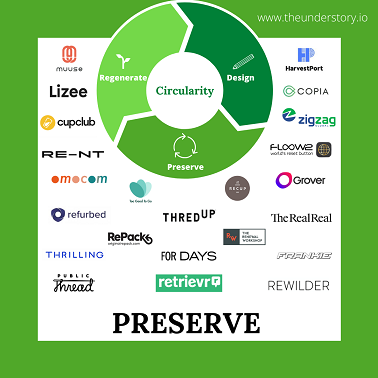 Resell
Within the apparel industry, the concept of thrift or resale stores is nothing new. These stores are once again growing in popularity as consumers become more budget focused and discerning about their personal environmental impact. Rent the Runway found success by extending the "shelf-life" of useful products by renting a single piece of clothing over and over to different customers.
Moreover, new entrants like ThredUp, Thrilling and TheRealReal have digitized the traditional consignment model, creating online clothing resale marketplaces that simplify a seller's ability to sell used goods and expand the buyer's universe of purchase opportunities. While sellers and buyers or investors of these platforms may not think about circularity preservation, indeed these organizations are practicing the concept extending from their technology product to their value creation. Recognizing the importance of circularity preservation and its impact on the overall circular economy and sustainability, large retailers such as Gap and Nordstrom have partnered with these online consignment platforms.
Repair
Repairing (or restoring) items — everything from apparel to machinery to technology — is also having a resurgence. In less wealthy economies or from older generations, the practice of fixing the vacuum or coffee machine was not outlandish. To many people, for economic or cultural reasons, tossing out some appliance or equipment that could be fixed and buying a new one just was not an option or accepted. Now the just-in-time economy, along with the rise of e-commerce, has made tossing out and getting something new more enticing and easier. Consumers are trained to scroll online shops and click once to purchase, potentially creating more waste than needed.
Companies are once-again embracing repairs, making it easier for consumers to choose sustainable alternatives. Refurbed, for example, is an online platform that fixes and resells used electronics at a discount. Caterpillar created their Certified Rebuild Program over 30 years ago to fix and prolong large machinery which created customer stickiness while also driving new revenue. Repairing and restoring, coupled with reselling, help reduce waste and enable circularity preservation.
Within the apparel industry, upcycling — which is the creation of new goods using excess or discarded materials — has become popular. Upcycling is often called 'creative reuse', and has a potentially notable impact on circularity. Rewilder and Public Thread both use discarded textiles and other materials that cannot be recycled to create apparel and accessories.
Remanufacturing is a similarly important concept to circularity preservation. It is the process of recreating original products with a combination of new, reused and repaired components. Companies that are successful at this process often have proprietary methods to disassemble discarded items and repurpose the materials in a closed loop or circular fashion.
Sharing
The ride sharing industry transformed consumer preferences around transportation and spawned the sharing economy. Sharing allows resources to be better utilized by many people, increasing an asset's utilization, utility, and ultimate value. In the case of ride sharing, the car operates at a much higher utilization rate than sitting in the driveway of the car owner.
Ultimately, sharing in circularity preservation is about converting a product meant for one-to-one consumption to one-to-many. A person's car can be used by many in a ride sharing scenario. A single-use plastic cup can be converted from a one-to-one consumption model to one-to-many by innovating on materials, processes, and network effects. A number of companies are tackling this:
Cupclub enables the end-to-end process for reusable cups in hospitality. They provide cups, track their use, collect, wash and return them back into use.
Muuse also provides reusable containers for food and beverages and facilitates the entire flow from production to collection to return to use, reducing the creation of plastic waste.
Other companies are tackling the sharing and reusing of electronics and other high-tech consumer products. Grover, for example, allows consumers to rent technology products like tablets, cameras and smartphones.
Some companies are building software platforms to power rental and sharing economies, making it easier and more cost effective for new businesses to launch with one-to-many sharing business models.
Floow2 provides an underlying technology platform that enables digital asset-sharing marketplaces.
Lizee provides a four-step process to help brands create rental business models. In addition to the software platform, they also provide warehouse and logistics services.
These types of technology vendors can be critical partners when testing, adopting and scaling new business concepts.
Considerations for Circularity Preservation:
Reframe your organization's definition of a product — A product is the sum of its parts, and each component can be used or reused multiple times, extracting additional returns along the way. Similar to Philips and Caterpillar, look for creative ways to reuse components or give your products new life with customers.
Consider new business models leveraging circularity preservation — Is there an aftermarket for your goods? Can you tap new customer segments by renting your product or adopting a sharing economy approach? Don't give away the upside of sustainable innovation to other players.
Utilize technology to achieve scale — Digital tools do exist to help achieve circularity at scale. Ensure you understand and have access to the technology ecosystem in circularity preservation.
The economic model of the future is circular — extend the useful life of your products and services and in turn drive value for your customers and business.
---
[1] United Nations Economic Commission for Europe, World Resources Institute, March 2018. https://www.unece.org/fileadmin/DAM/RCM_Website/RFSD_2018_Side_event_sustainable_fashion.pdf
[2] NRDC, "Use of Single-Use Plastics 101", January 9, 2020. https://www.nrdc.org/stories/single-use-plastics-101
[3] Nielsen, "Unpacking the Sustainability Landscape", November 9, 2018.
---
Subscribe
Join the newsletter to get the latest updates.
---
---