A number of key stakeholders comprise the voluntary carbon market, playing both pivotal and sometimes overlapping roles. We mapped out the typical players and market flow in the diagram below.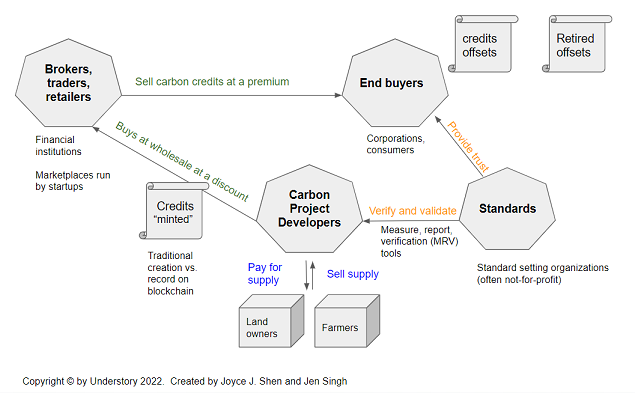 Standards Setting Organizations
There are various organizations that are responsible for defining and certifying requirements of carbon credits (e.g., how many trees, how many emissions are sequestered or prevented).
Project Developers & Management
These organizations manage projects that are developed to sequester, manage, or destroy emissions. There are many different ways to produce a carbon credit. Project management plays a role in "creating" a carbon credit. Eventually, these credits reach the market to end buyers and brokers. The project managers often relate to the types of projects listed in the section above.
Retail Traders
Traders purchase carbon credits directly from the project or supplier. They will bundle individual credits into a portfolio that can be sold to the brokers or end buyers. A variety of exchanges have been developed to standardize the products for nature-based credits and simplify the transactions.
Brokers
Brokers buy credits from retail traders and sell to end buyers. Many brokers also act as traders.
Data / Rating Providers
These companies are independent organizations that provide data to assess the pricing and quality of carbon credits. An example is Sylvera which provides insights into the carbon market and assist all players in the market:
End buyers receive details on the carbon credits so they can choose the best credits for their companies. Sylvera allows purchasers to access data on credits and get the best price on credits.
Traders can also buy similar data to develop strategies based on data and insights in the market.
Project management firms can also use the insights to create successful projects faster.
End Buyers
Companies and individuals committed to reducing their net GHG emissions who ultimately purchase the carbon credits.
If you want to learn more about the voluntary carbon markets, check out Voluntary Carbon 101.

---
Subscribe
Join the newsletter to get the latest updates.
---
---