Globechain helps large and small-scale businesses reduce corporate waste by facilitating reuse of unwanted items through its platform.
With trends coming and going, and regular wear-and-tear, household furniture waste is often a problem, not many consider. Imagine how at a large scale, through corporations that have offices all over the world, waste can accumulate greatly. The circular economy as a concept has been gaining a lot of traction in recent years. Now valued as a £4.3 trillion industry, the circular economy is the practice of keeping materials and products in circulation for as long as possible, using restorative and regenerative practices1.
Globechain helps businesses reduce their waste and be better corporate citizens. Here's how it works:
●       Corporate-owned items that would otherwise be trashed are listed on the Globechain marketplace,
●       Email alerts are sent out to all members; members include organizations like non-profit charities and other worthy causes,
●       Members request items, usually within 24 hours of listing,
●       The lister approves and contacts the member to which the item will go,
●       Items are then collected at the specified date and time,
●       Members have the option to fill out a feedback form.
The entire process promotes sustainable waste management as well as circular economy, while at the same time benefitting non-profit charities, domestic violence shelters, schools, and libraries. Globechain can work with a wide range of products and materials - from 3D glasses to office furniture to medical supplies. The company redistributes everything (including the kitchen sink!). In one recent project, Globechain played a role in the building of a new school in Ghana using redistributed materials from their marketplace. Based in the UK, Globechain also operates in New York and Texas, as well as Spain.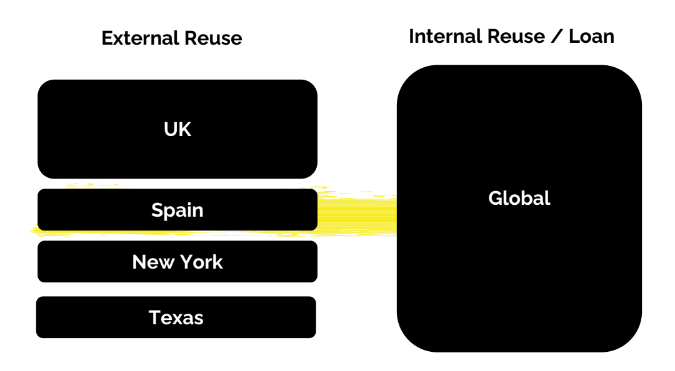 Globechain has two sides to its platform: external and internal reuse. The concept of external reuse allows companies to access a network of Globechain members to distribute items. Companies have several plans to choose from, with a variety of price points, ranging between £10 per listing to £500 per annum with the small business plan. The internal reuse loan system, on the other hand, is software. Using this software, items can be reused, redistributed, and loaned within companies on a global scale. From a business owner's perspective, listing on Globechain is highly beneficial whether they use the external, internal, or both sides of the platform.
Those looking to request an item are not charged by Globechain whatsoever. Instead, they are only responsible for the costs of shipping and collection of objects. Gophr has partnered with the company to provide a courier service for participating members in the UK. Recipients receive donated items that can improve and sustain their organizations, especially non-profits who might not otherwise get access to these resources.
In working with Globechain, corporate customers receive ESG (Environment, Social, Government) data and full financial reports that they can use for investor and other sustainability reporting. These reports detail things like the impact that they made by donating the items, the amount of waste diverted, and any carbon footprint savings. This is a huge incentive, especially for larger corporations looking to showcase their "green" initiatives.

To date, Globechain has diverted over 10 million kilograms of waste from landfills. This results in enterprise saving an average of 2.4 million per year2. The company is a great example of innovation that facilitates circular reuse, extending the useful life of multiple items that would otherwise end up in the landfill.
To learn more about Globechain, watch the company's presentation at our Understory Showcase here: Understory's 'Startups Driving Sustainability' January 2022 Showcase Event.
---
[1] United States Environmental Protection Agency. National Recycling Strategy, 2022.
[2] Globechain. 2022.
---
Subscribe
Join the newsletter to get the latest updates.
---
---