SolarKal is a commercial solar energy marketplace focused on connecting organizations with the best solar energy providers for their business and budget.
Solar power is a rapidly growing form of renewable energy in the US and does not show any signs of slowing down. Commercial solar energy prices have fallen 85% since 20101, yet there is still room for improvement. Only about 3.5% of commercial buildings in the United States are equipped with solar panels, and another 1% is supplied by solar energy sources2. If solar power is cheaper than ever, why aren't all businesses adopting it?
Switching to solar power can be very complex for businesses. There are many different providers with different services that may not be applicable to the consumer's needs. Each business has its own individual needs such as budget, view, zoning, and regulations that all need to be accommodated for. On top of this, the current solar market is not very transparent for the consumer, making it hard to find companies who will install and hard to get quotes, leaving the client feeling uncertain of their choice. Many businesses don't have the available resources or pressing goals to make converting to solar a high priority in this slow-moving, inefficient market. Simplifying the user experience could lead to greater adoption of solar energy in the US commercial sector.
Solar companies also take on risk when advertising their products, as this is expensive and inefficient. Converting customers requires a lot of education and hand holding, which eats into the sales process. Plus, as many installations can be very specific, it also takes a lot of time to qualify the leads and ensure the project fits the vendor's specific expertise. This leads to approximately 40% cost inefficiency and waste in the industry, slowing adoption of renewable solutions. Change is needed to better connect solar supply to demand.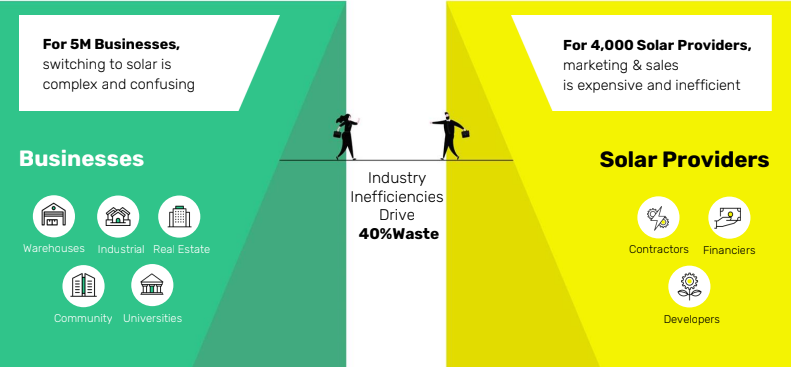 Founded in 2015, SolarKal is a B2B marketplace that simplifies the solar energy procurement process, focused on making solar accessible to every organization. There are over 200 solar contractors across the United States who use the SolarKal network to provide businesses with pollution-free energy. SolarKal pairs each client (the business) with a solar advisor who will help gather the solar needs of the client and shepherd the client through the entire process. Once the project is submitted, SolarKal's matching algorithm sends the project description to the solar providers that meet all the requirements to gather bids from multiple sources. SolarKal then helps their clients evaluate the bids, financing options, and potential government incentives.
On the other side of SolarKal's marketplace, solar service providers receive more projects that are pre-vetted for their particular scale of production and interests. The SolarKal software is able to match providers with relevant projects, provide data on this project, and can send bids to customers. Through this automation, the customer acquisition cost that is generally associated with the solar energy marketplace is virtually eliminated.
Why should companies seeking renewable energy look to SolarKal for their projects? On the supply side, there are many stakeholders already involved in solar projects such as: NextEra energy, SunBug Solar , EDF Renewables and Solect Energy. Typical SolarKal customers achieve cost savings of ~30%, in addition to time and frustration savings. These savings are achieved by removing friction from the selling process, so providers also win. With access to over 200 suppliers and a solar success advisor, it is no surprise that over half of bookings on SolarKal are repeat customers looking to grow their solar developments.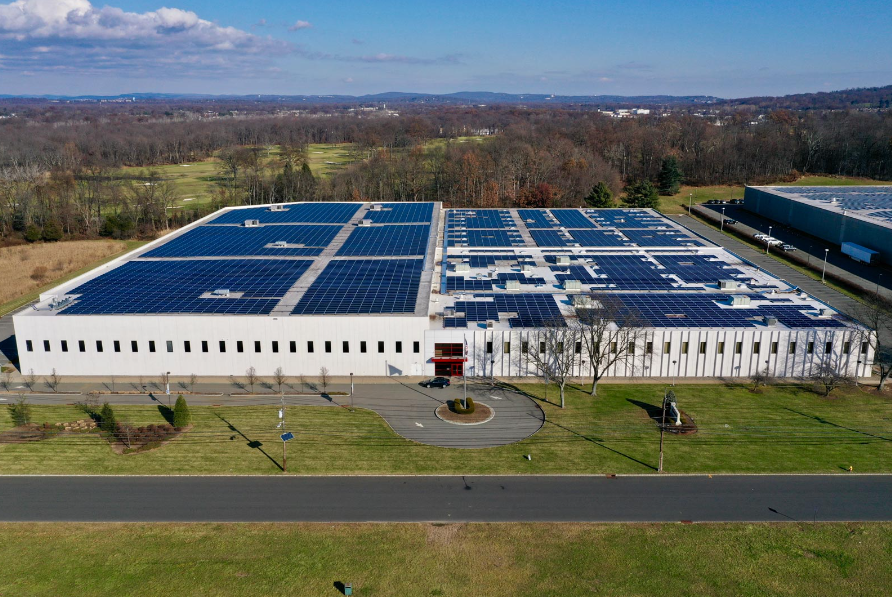 The solar industry is rapidly growing, and still hasn't scratched the surface of the overall market potential. About 70.5 percent of the commercial rooftops in the United States have capacity to introduce solar products, which amounts to over 87 billion square feet of commercial surface area and an opportunity of $290 billion. In a rapidly-expanding yet fragmented industry, a marketplace solution speeds adoption of solar energy solutions by simplifying the process for both solution providers and the companies looking to implement carbon-free solutions. SolarKal helps accelerate the commercial energy transition and net zero goals.
To learn more about SolarKal, watch the company presentation at our Understory Showcase here: Understory's 'Startups Driving Sustainability' September 2021 Showcase Event.
To dig deeper, you can also listen to our conversation with David Wei on The Understory Podcast.
---
[1] CleanTechnica. Just The Facts: The Cost Of Solar Has Fallen More Quickly Than Experts Predicted. June 8, 2022
[2] Greentech Media. WoodMac: US Sitting on 145GW of Unused Commercial Solar Potential. August 10, 2020.

---
Subscribe
Join the newsletter to get the latest updates.
---
---