United by Zero helps consumers make sustainable purchasing decisions by using data to score fashion garments on their sustainability practices.
Big picture
Consumers want to buy sustainably. According to BCG, 75% of consumers consider sustainability when making a purchasing decision and 66% expressed readiness to pay more for products that are more ethical and environmentally friendly 1. Unfortunately, fashion brands have turned this preference into a marketing bonanza. Terms like "sustainable", "eco-friendly", "vegan" and more are everywhere. "Greenwashing", or presenting disinformation to give off an environmentally responsible public image, is the new normal. Consumers are confused.
In addition to market confusion, rampant greenwashing is also eroding consumer trust. How can they know if a product is sustainable? What does sustainable even mean? How is it measured? Without a third party to help evaluate sustainability claims, consumers have a hard time finding the causes and brands that align with their values. And they ultimately aren't buying. We see an inefficient market, where the demand for sustainable goods is not being met, despite the rapid increase in supply.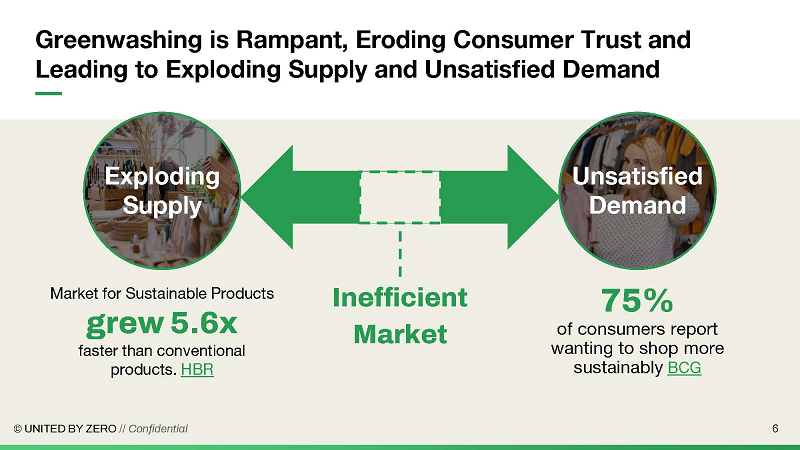 Data-Driven Solution
United by Zero helps address a huge market problem: understanding what products are truly sustainable. Its technology helps consumers assess the sustainability of traditional garments and discover sustainable alternatives. The overall goal is to make it easy and accessible for consumers to shop more sustainably and ultimately build new shopping habits. The company wants to establish more trust in sustainable goods and connect consumers with the brands that they value.
How does United by Zero achieve this? The company built a sustainability scoring platform focused on fashion called the Z-Score. The Z-Score evaluates data points across seven main categories including:
chemical use
water use
supply chain transparency
circularity
humanity
animal welfare, and
carbon and energy use.
Consumers can personalize their individual priorities across these seven categories which results in an adjusted and personalized Z-Score. Using this scoring methodology, consumers can see how a particular garment rates and make purchase decisions based on the data.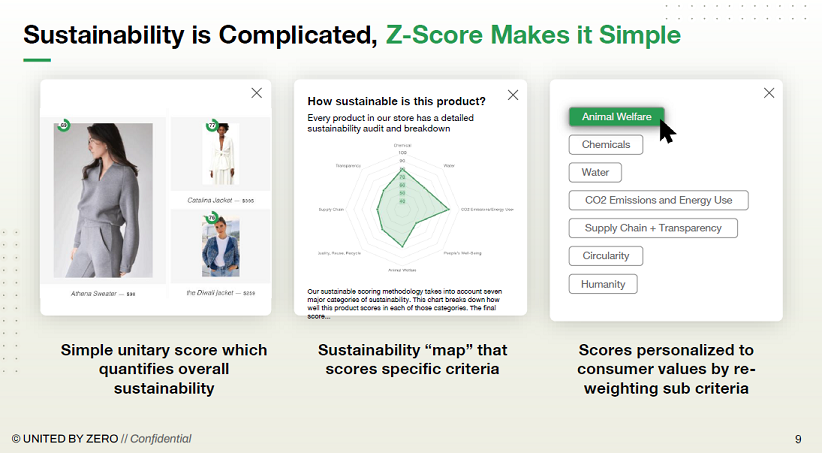 United by Zero launched its e-commerce store featuring brands like For Days, Public Habit, Anne James New York, and others. Subsequently, the company offered a Chrome browser extension that consumers can use when shopping any retail site. By clicking the United by Zero icon, a pop-up window will show the Z-Score of the item you are browsing (if available) and offer similar and sustainable alternatives. Some retailers even provide coupons and offers, making shopping sustainable even more attractive.
From Understory's perspective, consumers need to know what products are truly sustainable. Technology, as well as data analytics, can play an important role in advancing this goal.
To learn more about United by Zero, watch the company presentation at our Understory Showcase here: Understory's 'Startups Driving Sustainability' - September 2021 Showcase Event.
If you are interested in learning more about sustainable fashion, check out our webinar: Pioneering Circularity in Sustainable Fashion.
---
[1] BCG. Consumers' Adaptation to Sustainability in Fashion. April 22, 2021

---
Subscribe
Join the newsletter to get the latest updates.
---
---