e-Mission is an ESG education company focused on teaching financial professionals about sustainable investments with its interactive training platform.
The financial sector is now more than ever being pushed to function more sustainably. Investors, both individual and institutional, are clamoring for sustainable investment options leading to the rise of ESG (Environmental, Social & Governance) investments. In fact, investments in ESG strategies grew 42% from 2018 to 2020, and continues to rise[1]. The use of more sustainable investing methods and the incorporation of ESG frameworks are now a priority for many investors and wealth management companies.
Unfortunately, climate and sustainability are still not well understood by folks who do not operate in the industry on a regular basis. Regulations and global climate initiatives, such as the Paris Climate agreement, have many financial advisors feeling they are not educated on these topics and the evolving societal expectations.
In Europe, financial advisors are now required to advise customers on ESG preferences due to regulation. Banks are now required to disclose climate-related risks in investments, direct their clients towards sustainable choices, and help prevent greenwashing. But many wealth managers and financial advisors don't have the basic knowledge to successfully advise their clients. Financial institutions that aren't educated on sustainability and ESG topics are now at a disadvantage compared to those that are and may lose customers as a result. Financial professionals are seeking knowledge about these topics to gain competitive advantages and remain relevant in a changing market.
One way to upskill employees on these topics is through training and e-learning content. Corporate training, especially for financial advisors, is commonplace but success outcomes can be mixed for a variety of reasons. Historically, ESG training programs for financial advisors are often quite monotonous and dull, making it difficult for those taking the program to feel passionate about sustainability. As of earlier this year, less than 15% of financial advisors have completed structured ESG training, though 57% of them are seeking more ESG support[2].

Enter e-Mission. The company's goal is to provide an "edutainment" platform for those in the financial services industry. Edutainment is a standard method for learning inside and outside of the classroom which commonly focuses on a variety of learning formats. Alternative media forms such as high-quality films, podcasts, and interviews are used to increase focus, interest, and overall passion for the educational topic. e-Mission currently uses these formats to deliver sustainability and ESG training to busy financial professionals. By providing content through interviews and other engaging formats, e-Mission users gain many perspectives on environmentalism and increase their understanding on these important topics.
Currently e-Mission delivers training to banks, insurance companies, and the real estate industry, by offering several tailored courses, covering the following subjects:
● Environmental Technologies
● Sustainable Investments
● ESG Basics
The e-Mission platform will soon be home to more courses, covering subjects such as Sustainable Risk Management, ESG Preferences, and Sustainable Portfolio Management.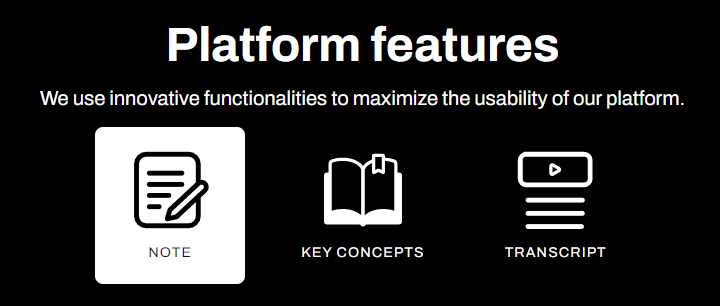 e-Mission takes an interdisciplinary approach to learning. The SaaS-based training platform has many benefits including personalization, automation, and consistent updates. For example, by using the "Sales-Tool" within the platform, the knowledge transfer can extend to the end consumer (the client) in a fully-automated way. Before a meeting with their financial advisor, a client can choose the topics they want to learn more about, and a personalized training experience will be delivered directly. This allows for a smooth and curated learning experience that can be individualized for each user. To adapt to the constantly changing new ideas and knowledge, the Sales-Tool is regularly updated with new, relevant content. At the management level, this means that organizations can deliver sustainability-approved certification to their employees, track team progress, and easily manage team upskilling.
e-Mission is currently focused on delivering curricula focused on ESG investing, although the platform has the potential to extend to future training topics and segments. The company's current training on ESG and sustainability across the financial sector will deliver sustainable ideas and principles into a new sector. This educational platform has potential to change mindsets and create the advocates needed to accelerate the transition to a sustainable economy.
To learn more about e-Mission, watch the company's presentation at our Understory Showcase here: Understory's 'Startups Driving Sustainability' - January 2022 Showcase Event.
---
[1] NASDAQ. The Rise of ESG and the Importance of ESG data, 2021. https://www.nasdaq.com/articles/the-rise-of-esg-and-the-importance-of-esg-data
[2] e-Mission, 2022. https://e-mission.de/en
---
Subscribe
Join the newsletter to get the latest updates.
---
---