Robotics Cats mitigates the effects and frequency of wildfires using artificial intelligence to detect and prevent early-stage wildfires.
Natural disasters are becoming an increasingly prevalent issue. The frequency of uncontrolled wildfires in areas of ecological importance is concerning. The impacts span industries and communities. Harm is inflicted on human health, property, wildlife, and the environment. In fact, an estimated $285 billion is lost in the US alone to wildfire damage1. The frequency and intensity of wildfires are expected to increase as the effects of climate change are seen. Changing climates have lengthened wildfire season in many areas, due to warmer temperatures, longer dry seasons, and therefore drier soils and vegetation2.

Current wildfire detecting processes rely solely on manual judgment like having lookouts in key areas during fire season. These methods often increase the frequency of error, and tracking and estimation processes are not always accurate as they lack data and resourcing. In the U.S. there are over 9000 lookout towers, but only 500 are currently staffed3. Innovation and technology developments are needed to mitigate these issues to improve responsiveness and coverage. Enhanced detection of wildfires also increases the potential to save lives, in addition to protecting property and natural habitats.
Robotics Cats aims to improve wildfire detection using artificial intelligence and computer vision technology. The AI allows for the real-time and constant identification of wildfires by ingesting all the video/images and self-improving over time to better detect fires from the data provided. The company's technology platform provides monitoring, insights into response time, and improving detection accuracy. Currently, Robotics Cats offers three products: InsightFD, LookOut, and ReportFires.
InsightFD is a robotic early wildfire detection system. The platform utilizes a rotating camera that records and scans for fires, 24 hours a day, 7 days a week. InsightFD can identify fires as small as 2m² in area. Using Long-Wave Infrared (LWIR) heat detection, fires can also be identified before the appearance of smoke. This improves detection with increased efficiency and accuracy, erasing the probability of human error. Compared to human-only monitoring, this technology is able to constantly scan for fires. Robotics Cats technology allows for efficient and safe wildfire detection, with little cost to human health. Sensors are able to detect even in the roughest conditions, and need minimal manual operation.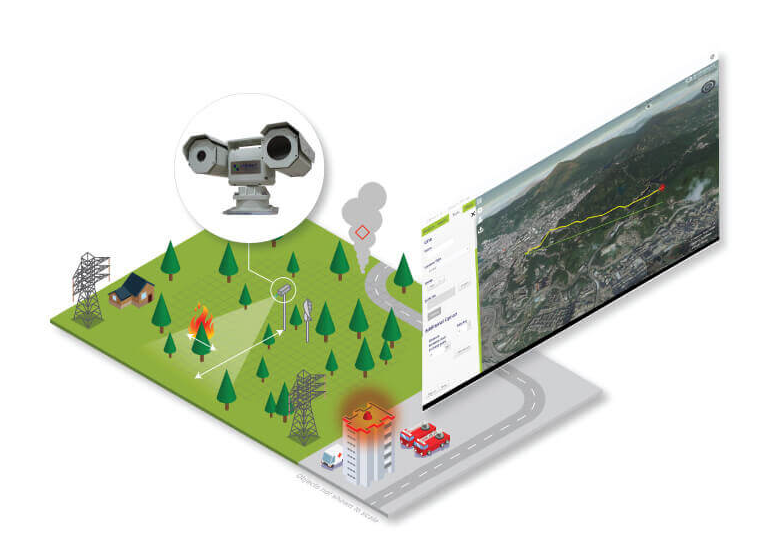 LookOut services aim to compensate for the vast array of wildfire lookout towers that go unstaffed. This technology allows for the detection of wildfires through analyzing existing surveillance cameras for signs of wildfires. Users are able to use this service with their phone cameras and are able to receive a wildfire alert within the hour.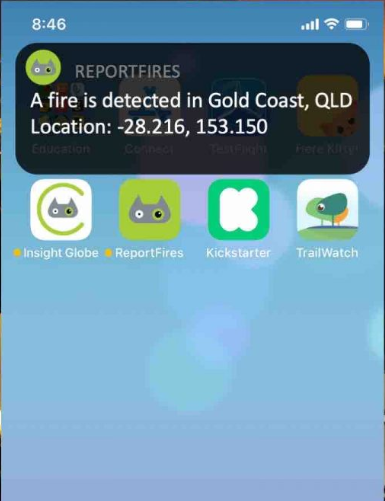 ReportFires is a mobile app that works directly with the Insight and LookOut systems to send alerts of wildfires in the area to users. Users of the app can also report fires and their location with one click. iOS users are even able to detect fires using AI smoke detection technology through their phone cameras. This app crowdsources additional information to support wildfire detection and monitoring and taps into any human monitoring that still occurs to ensure a comprehensive approach. By combining cameras, AI, and human interaction, the Robotics Cats platform covers all bases.
Based in Hong Kong, Robotics Cats has worked with communities and other partners around the world to improve wildfire detection. For example, RoboticsCats' LookOut detection software detected a wildfire in Cabo Polonio Park in Uruguay in January 2022. With this technology, the fire was reported 30 minutes earlier than other reports. Early detection is critical in containing and eliminating these fire hazards as quickly as possible.
To learn more about Robotics Cats, feel free to watch the Understory's "Startups Driving Sustainability" March Showcase.
---
[1] National Institute of Standard and Technology, 2017.
[2] EPA. Climate Change Indicators: Wildfires. 2022.
[3] Government Technology. Commentary: Lookout Towers Are Another Firefighting Tool. November 7, 2019

---
Subscribe
Join the newsletter to get the latest updates.
---
---