GrowSquares is a company that helps home gardeners plant smarter using a combination of modular gardening plots, data analytics, and mobile technology.
Home gardening has grown in popularity, especially as individuals picked up new hobbies during the pandemic. There has been a noticeable uptick in the number of households contributing to the gardening industry, with an 9.6% increase in retail sales from 2019 to 2020[1]. Millennials and urban dwellers in particular have increased their spend on lawn and garden activities, with many intent on growing their own food staples.
The environmental impact of home gardening is very positive:
Gardening increases biodiversity, especially in urban environments
It helps improve the condition of the soil
Sourcing local foods reduces the carbon footprint of what we are eating. Grocery-store purchased food often travels thousands of miles before reaching our tables.
There are also numerous social benefits to urban gardening like eliminating food deserts, helping combat food insecurity, and reducing the cost of fresh produce.
Unfortunately, home gardeners often have a hard time starting a garden on their own. In fact, two thirds of all gardens fail and require substantial time and effort to make them successful. When starting a home garden, there are many things to consider including location, soil type, season, and weather. One of the most difficult aspects of home gardening is determining plant placement, and which plants to grow because gardening success is dependent on so many specific factors. Additionally, life in urban areas often does not allow for the space needed for a conventional garden. Enter GrowSquares.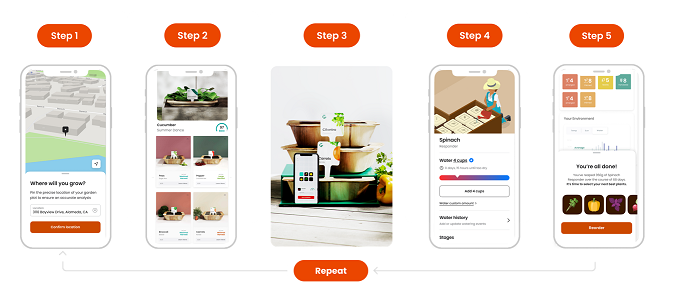 GrowSquares is a technology solution that provides data insights and recommendations to help users create, organize, and grow their gardens more efficiently. Through the mobile app, users can map, organize, and purchase a variety of potential crops. Customers fill in their details, namely their location and some specific environmental factors. In a five-step process, mobile app users enter their address, and can select their garden type from four options; ground, raised bed, planter box, or a pot. From there, users enter the soil depth at which they intend to plant, and GrowSquares will recommend the most suitable plants and will prepare a specific configuration of crops for that individual.
Using modular, ready-to-plant, biodegradable containers, GrowSquares sends customers their garden in a box. Upon planting, the container will begin the biodegradation process, and will be undetectable within one hundred days. Each GrowSquare costs $25, plus shipping and taxes. One key feature is the GrowScore meter which shows users the level of detail they receive with the GrowSquares mobile app.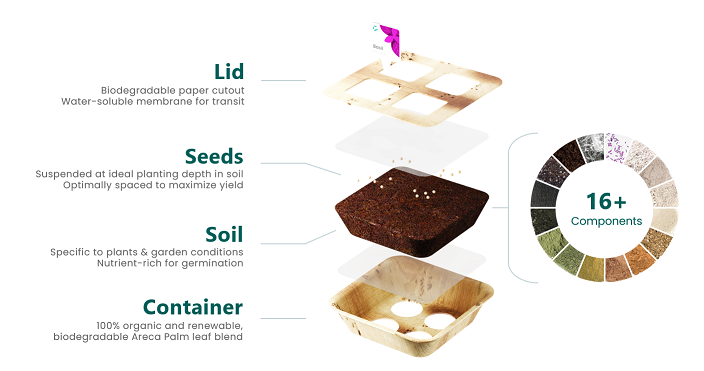 The GrowSquares app uses sensors, granular location data, and other inputs to track up to 34 environmental variables, including shadow analysis, humidity, and wind speed to analyze various environments. By giving locations a "GrowScore" on a scale of 0 to 100, one can identify the best spot to place a GrowSquare down to the square foot in their backyard or balcony. In order to ensure healthy plants and growth, GrowSquares can also recommend and provide nutrients and minerals that are lacking in one's home soil. The app can give users the recommendations on when to water, how to tend, and other advice on how to successfully grow their crops. Ultimately, the app creates an individualized experience based on the exact factors at hand which may vary widely from location to location.
GrowSquares uses a variety of different technologies to power the app. The app harnesses various sensors in the mobile device to collect data. They also use machine learning to create recommendation algorithms and computer vision to identify disease vectors and other image-based analytics. The algorithms continually update as more data enters the platform from individual 'nodes' or users within the network. The results are distributed through the app experience, and also via APIs and tailored insights for commercial applications.
In addition to working directly with consumers, GrowSquares also works with a variety of enterprises to provide data insights and power commercial farming applications. Their solutions can power more sustainable agriculture practices like precision farming.
GrowSquares believes that data can turn anyone into a successful gardener. By providing easy access to insights and recommendations, even black thumbs can cultivate successful gardens.
To learn more about GrowSquares, watch the company's presentation at our Understory Showcase here: Understory's 'Startups Driving Sustainability' February 2022 Showcase Event.
---
[1] GrowSquares. GrowSquares Inc. 2022.
---
Subscribe
Join the newsletter to get the latest updates.
---
---