Open Water, while bottled water, is a pragmatic sustainability solution that is meant for day-to-day convenience with its climate-neutral packaging. On a mission "to be the most sustainable bottled water in the world," the company curbs plastic pollution and gives back to ocean conservation efforts.
Founded by Jess Page and Nicole Doucet, Open Water strives to solve the plastic waste problem given 91% of plastics are non-recyclable1.
There's no question that refillable, reusable containers are the best option to reduce waste. But for many people on the go, it is not always the more practical option. Sometimes people don't feel like carrying a water bottle around or they can't find a place to refill or they forgot it at home. Open Water is one solution to curb plastic waste while also being pragmatic. As the company devised a solution based on how people work and their day-to-day lives, they created something just as convenient while reducing the impact of the packaging.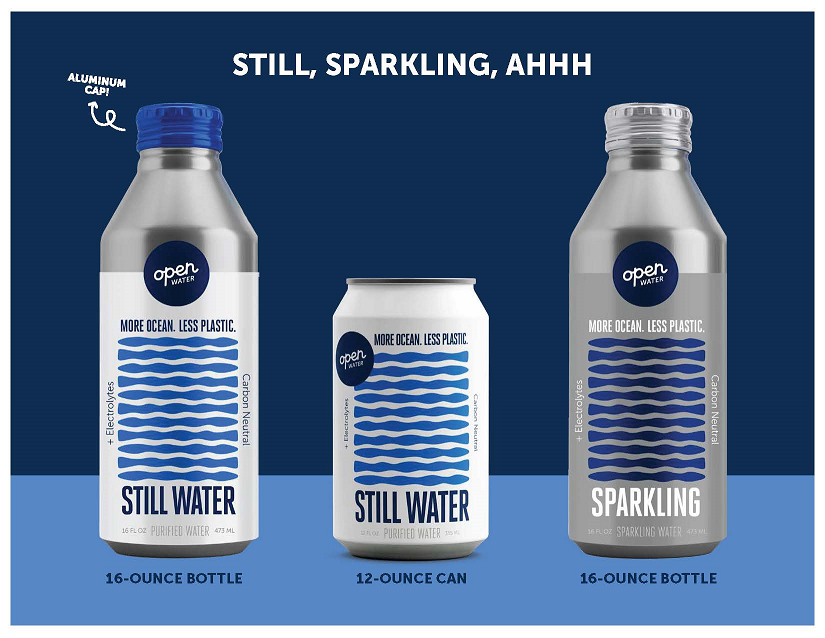 Why is this important?
Open Water's fully recyclable and reusable aluminum bottles and cans of purified water became the world's first certified climate-neutral bottled-water company as of 2020. From an end-of-life perspective, the product is more sustainable compared to a plastic bottle, because it is more easily recycled. However, from a carbon emissions perspective, aluminum products can sometimes create more emissions than plastic bottles. Driven by sustainable principles, the founders wanted to address this and make sure the product would be the most sustainable option throughout the lifespan and end of life of the product.
Open Water is more eco-friendly than plastic, glass, cartons, and other aluminum options.
Open Water chose aluminum as its packaging material because it is infinitely recyclable and has the highest recycling rates amongst container materials. In addition, the Open Water container uses a high concentration of recycled packaging material, made of 73% post-consumer material. The founders also designed the concept to avoid having a plastic cap. It has been certified by Climate Neutral meaning it has spent money and time to avoid, remove, and reduce carbon emissions through a guided three-step process developed around peer-reviewed standards.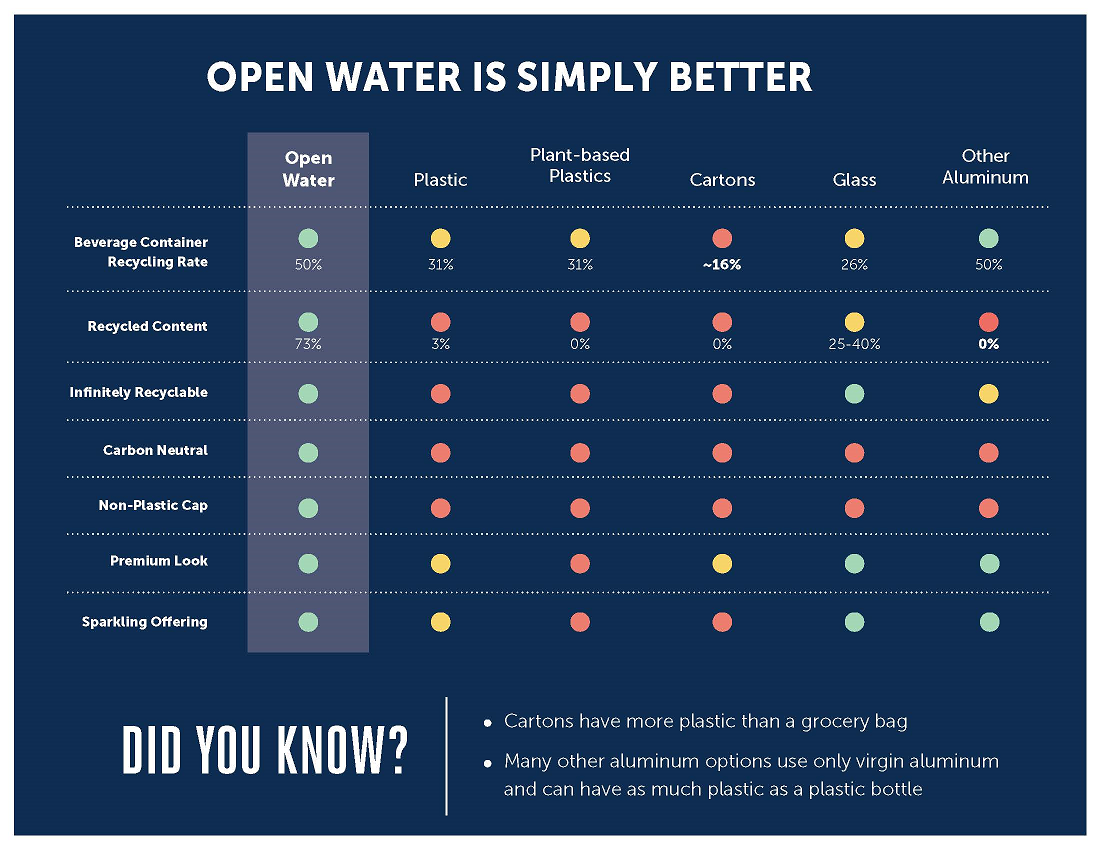 What makes the water different?
Inside the bottles and cans, the water has electrolytes and is pH balanced. The water recipe philosophy is different from other premium water companies - in that the source of the water is not the secret sauce. Open Water's recipe can be replicated no matter where it is bottled - water is first purified and essential minerals are added in it. This allows them to produce as close to where they are selling so that shipping and production costs will be minimal. It also reduces the amount of emissions that are generated by transporting the product from its source to the point of consumption. The company's goal is to eventually guarantee that the product was made within 200 miles of where it is purchased.
Open Water has an ambitious mission of eliminating 1 billion plastic bottles within 5 years. They offer a pragmatic and sustainable bottled water option for consumers and companies that want to promote climate-friendly solutions.
Watch the company presentation at Understory Showcase here: https://www.theunderstory.io/startups-driving-sustainability-j-2021-showcase-recap-recording/
Want to learn more about Open Water, check out the website at https://drinkopenwater.com/.
---
[1] National Geographic. "A Whopping 91% of Plastic Isn't Recycled". July 5, 2019.
---
Subscribe
Join the newsletter to get the latest updates.
---
---