ECGO is a mobile app that aims to educate and reward those who recycle correctly.
America has a waste problem, or better-said, a waste management problem. The United States only represents approximately 4% of the world's population but contributes 12% of the world's solid municipal waste1. Many municipalities ship their trash to other locations, like overseas, but soon will run out of viable space for disposal.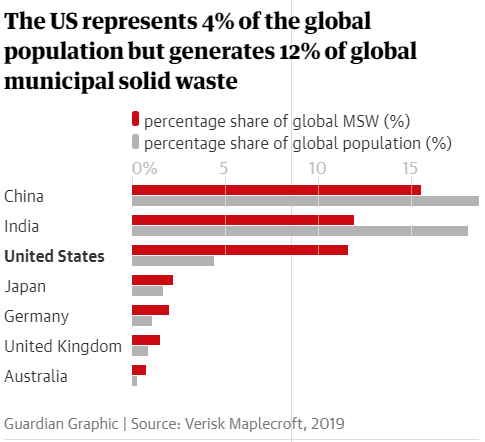 Recycling is often heralded as a potential solution to the waste problem. Many consumers strive to recycle and do their part to contribute to the solution. Unfortunately, they often do more harm than good because they don't recycle correctly. Waste systems in America are highly flawed and recyclable materials are rarely properly dealt with, given the lack of proper sorting and cleaning solutions at scale. The process is contingent on consumers properly sorting waste and recyclables at the time of disposal – no easy task. In fact, about 25% of recycled materials are sent to landfill due to improper recycling2.
Recycling contamination occurs mainly when materials have not been sorted correctly, or when there is residue on the recyclable, be it food or hazardous waste1. Food residue left on containers is one factor that reduces the likelihood of recycling. For example, unwashed items like plastic bags, bottles, and pizza boxes often contaminate large batches of recyclable materials. Waste management systems will reject the entire bag/bundle in these instances. Improper sorting of recyclable items – such as when an item is placed in the incorrect container – can also increase the likelihood that it is "rejected" and sent to a landfill3.
Recycling gets even more complex at a municipal level. Local recycling guidelines vary, and residents don't always know the differences. For example, a person may live in one city where glass is recyclable but crosses county lines to go to the office where glass is not accepted. Plastics, in particular, are also very complicated. The average individual cannot identify the wide varieties of plastics, let alone whether they can be recycled. Businesses and large campuses, like universities, also have their own struggles with recycling programs as they bridge their consumer population and municipal requirements. As these organizations try to achieve net zero and zero waste goals, simplifying waste management is a critical objective.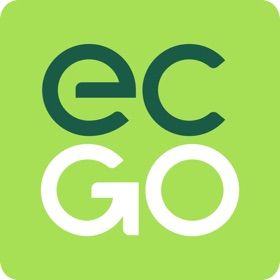 ECGO (formerly Conserve Innovations) has developed a process to make identifying and disposing of recyclable materials easier. Through a mobile app, users can scan and identify recyclable materials, locate nearby bins, and get rewarded with points that can be used for discounts on local products and services. Differing from competitors in several ways, ECGO's material-scanning technology simplifies the identification process for a variety of recyclable materials. Using the camera feature within the app, the user takes a photo of a specific object, and it is immediately recognized in terms of what it is and what the object is made of. The detection capabilities can recognize a variety of different materials from cardboard to plastics to glass and more. From there, ECGO connects to local recycling restrictions and standards to recommend where and how to dispose of the object.
This app is critical for helping educate consumers on what can be recycled wherever they are, ultimately reducing the amount of recycling contamination that happens at scale. It also intends to make the recycling process more enjoyable with a gamified experience that encourages long-term behavior change. For example, the app includes a variety of incentives and leaderboards which galvanizes the community around sustainability efforts.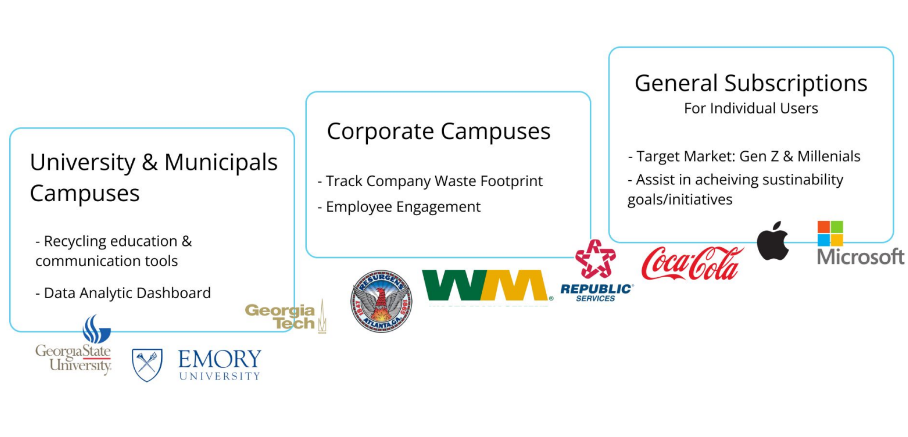 Since first launching in 2020, ECGO now has over 1000 users in a paid pilot at a major university campus. The company is currently focused on launching at additional university and corporate campuses before rolling out general subscriptions. These customers receive a back-office dashboard that provides detailed insights for sustainability coordinators and other executives. The stakeholders receive real-time data that allows them to make decisions before the waste streams even enter the recycling centers. Ultimately, ECGO helps these organizations reduce their levels of trash, improve overall recycling rates, and meet overall sustainability goals.
Long term, ECGO hopes the app will be used as a form of communication and employee engagement, engaging individuals around sustainability initiatives on the platform. ECGO strives to reach 5 million individuals, work with 250 institutions, and divert 500,000 tons of waste from landfills by 2025.
To learn more about ECGO, watch the company's presentation (called Conserve Innovations) at our Understory Showcase here: Understory's 'Startups Driving Sustainability' February 2022 Showcase Event.
---
[1] The Guardian. "US produces far more waste and recycles far less of it than other developed countries". July 3 2019.
[2] ECGO. Conserve Innovations. 2022.
[3] Rubicon. "What is Recycling Contamination". December 4 2017.
---
Subscribe
Join the newsletter to get the latest updates.
---
---