Topl helps companies increase transparency of sustainability initiatives making it easier to track and monetize impact.

Topl is a blockchain platform built for tracking, tokenization, and monetizing global impact. The solution's functionalities enable the company to not only compile data for storytelling capabilities but also create new markets for impact investments. Topl's impact technology empowers corporations, startups, and nonprofits to unlock the value of their positive ESG and other global impact initiatives.
Digitalization and transparency are becoming increasingly critical aspects of tracking and proving sustainability claims, especially as it relates to supply chains. The lack of data and data privacy has proved challenging for supply chains in particular. Seeing no seamless solutions available for supply chains, Topl created a platform that presents proof of data and induces trust without sharing sensitive information. Topl's purpose-driven blockchain technology empowers businesses to back up their ethical and sustainable practices with proof.
What is a blockchain?
Blockchain, defined by IBM, "is a shared, immutable ledger that facilitates the process of recording transactions and tracking assets in a business network. An asset can be tangible (a house, car, cash, land) or intangible (intellectual property, patents, copyrights, branding). Virtually anything of value can be tracked and traded on a blockchain network, reducing risk and cutting costs for all involved. It allows businesses to deliver immediate and completely transparent information".1
Across all industries, blockchain is a disruptive technology that can provide a foundation for better, fairer, and more inclusive economies. By catalyzing this infrastructure, companies can address their digital and sustainable needs and ultimately, create positive impact. Blockchain-powered applications let you own and control your data, with no intermediary and since records are immutable, they can never be changed. Commitments made by any organization are fully visible and cannot be altered to mask poor practices, meaning everyday people can understand where their products are coming from. The globally connected network within blockchain can underpin different technologies with a common infrastructure to unlock greater connectivity and intersection across all value chains.
In 2017, Topl's founder, Kim Raath, built a solution that streamlines products, funds, and certification claims into one seamless transaction using blockchain. In other words, Topl combines supply chain data, transaction information (i.e. payment for goods), and the standardization of ESG and sustainability claims into one underlying infrastructure instead of three disparate systems.
Topl's underlying solution allows organizations to take advantage of ongoing industry changes by magnifying and monetizing impact.
One Use Case: Coffee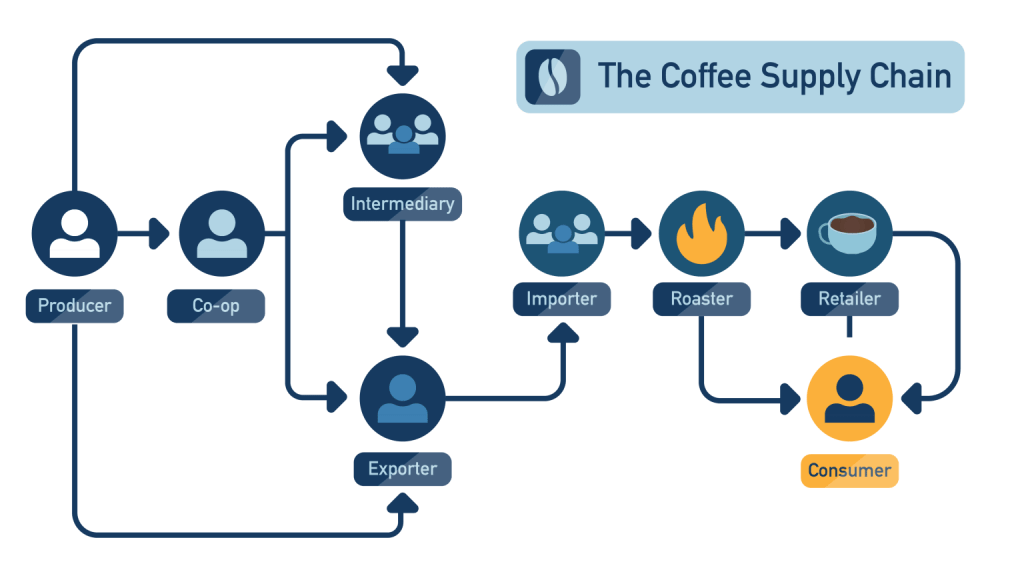 The COVID-19 pandemic impacted every aspect of supply chains—from production to transportation to distribution. At the same time, it exposed an opportunity for Topl to update traditional record-keeping systems for distribution, such as the coffee supply. Each of the many actors along the supply chain, from the farmer, to the washing station, to the exporter, may have competing incentives, which can affect the data they log at each step of the product's journey2. Topl's blockchain is a two-way exchange of assets that links transactions with additional information and verification of the supply chain. For example, the typical process might look like:
Coffee plants growing on a mountain are digitally recorded via geo-tagged and time-stamped photos.
The photos and info is uploaded to a traceability app accessing Topl's blockchain infrastructure.
The farmer can unlock new forms of credit by recording production history and linking it to a blockchain based digital identity.
Many of the coffee's stops along the supply chain are recorded using a QR code: at the washing station, when weighing, and additional steps along the way. Additional data and verification is collected at the same time.
Push notifications to the farmer's phone is triggered by information collected, confirming the day's price and quantity provided.
The data is stored on the blockchain including a digital twin of the coffee in the washing stations app.  E-money is transferred into the farmer's mobile wallet at the same time.
By the time the coffee arrives to the consumer, a QR code can provide a complete and verified history of the coffee in their cup.
The benefits? It is this transparency, reliability, and ethical content, all enabled by blockchain technology, that differentiates this sustainable coffee and justifies its price premium. Understanding the production history of the product allows the farmer to leverage his/her digital history to build credit worthiness and unlock barriers to financing access. Finally, incorporating the verification of sustainable practices can open new sources of revenues and markets.
Topl hopes to change the world one step at a time with more accessibility and is building the technology infrastructure for the impact economy. Topl offers both Blockchain-as-a-Service (BaaS) and Blockchain-as-a-Service plus Sustainability Solution (BaaS+) solutions which can be used for tracking, tracing, certifications - proving ESG impact across ecosystems.
Watch the company presentation at Understory Showcase here: https://www.theunderstory.io/startups-driving-sustainability-j-2021-showcase-recap-recording/
Want to learn more about Topl, check out their website at https://www.topl.co/.
---
[1] IBM, https://www.ibm.com/topics/what-is-blockchain
[2] Topl whitepaper, https://www.topl.co/whitepapers/virtual-reality

---
Subscribe
Join the newsletter to get the latest updates.
---
---